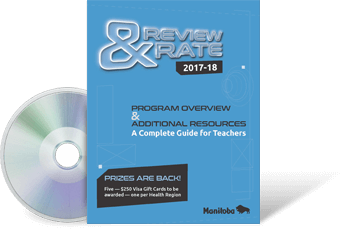 Review & Rate Teacher Kits are distributed in October 2017 to all schools in Manitoba offering grades 5 to 12.
Each Teacher Kit contains:
DVD with 12 outstanding international TV ads
Program and Additional Resource Guide
Student Ballots
Classroom Ballot Tally Form
Program Evaluation Form
You can also download all the printed material here: Print Materials
Need a DVD of the ads?
DVDs are available free-of-charge to Manitoba teachers until February 1, 2018. Contact Andrew Loughead by email: andrew.loughead@gov.mb.ca or phone: 204-784-3900.
DVD valid for showing: November 1, 2017 – February 28, 2018 ONLY
SPREAD THE WORD: When you are finished with your kit materials, please pass them on to another teacher.
Entering your class votes
Teachers can now enter student votes and their program evaluation directly: Review/Rate
We need to hear from you! Please enter your votes and evaluation to ensure this program continues and for a chance to win a $250 classroom prize!
Deadline to submit votes: February 28, 2018
Review & Rate 2017-2018 is for Manitoba students in grades 5 to12 students. The program is available for classroom viewing and voting from Nov. 1, 2017 – Feb. 28, 2018.